2015 - NSCAA Round Up
Our time at the NSCAA 2015 Convention has sadly come to an end. This year the Convention promised to be bigger and better than previous years and it didn't disappoint.
During our time at the convention we met coaches and managers of various age ranges and backgrounds. All of which helped to contribute to a unique experience at the convention.
We also had the chance to meet some famous faces at the NSCAA Convention. Including Sir Alex Ferguson, Rene Meulensteen, Les Reed and Pele! Which helped us to gain a perspectives from legends of the game.
The unique feel and experience at the convention which includes everything being centered around improving the game as a whole, is one of the reasons we choose to exhibit there. So a big thanks to everyone we met for making this years convention so special! We enjoyed it so much we have already decided we will be back next year!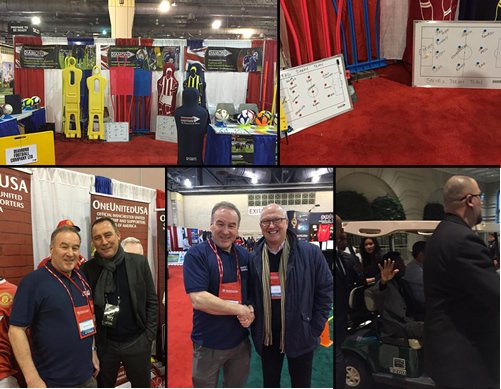 2015 NSCAA Convention
This year Diamond Football will be returning to Philadelphia, to participate in the 2015 "For the Love of the Game" NSCAA Convention.
Last year we took a big first step into the American soccer market by attending the convention. This year we're back for more!


About Us
We supply some of the biggest Soccer teams in Europe and the USA including the like of Man Utd, Real Madrid and LA Galaxy. Diamond Football is a leading supplier of soccer training equipment worldwide. Our products are made from high quality match day materials and are finished off with help from professional coaches and players alike! The Diamond product range features specialised training equipment and soccer coaching supplies.
With over 18+ years' experience in the soccer training equipment industry we have developed products meeting world football standards, such as the FIFA approved Size 5 Edge Match Football. At Diamond we are proud of our reputation for selling professional quality products at reasonable prices. In order to create these products at competitive prices we have worked with coaches, players and officials from grassroots level to the Premier League. For example our Managers Planner has been designed specifically for the modern day soccer manager which includes features for tactical analysis and planning.
Last Year 2013:
As we mentioned earlier last year was a great year for us and our experience at the NSCAA Convention made it all the better. Here are some of our pictures: