We now find ourselves more than half way through the 2015 Major League Soccer season, and so what better time to look back and reflect on how the tournament has unfolded so far and relive some of the highlights!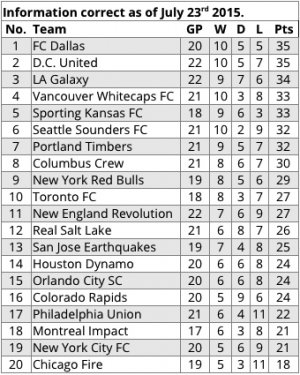 This year's MLS season began on March 6th and since then, between 20 clubs, there have been 201 matches and 504 goals! The highest attendance for a match so far has been recorded as 62,510 at the Orlando Citrus Bowl Stadium, where the fans saw the home team - Orlando City SC - draw 1-1 with New York City FC.
The top three goal scorers of the season are 1. Kei Kamara from Columbus Crew with 13 goals, closely followed by 2. Sebastian Giovinco from Toronto FC with 12 and 3. David Villa from New York City FC with 10. In joint first with 8 shutouts, the best goal keepers so far are Stefan Frei from Seattle Sounders FC and Adam Kwarasey from Portland Timbers.
FC Dallas is currently at the top of the board with 35 points, with D.C United just below them (however, also with 35 points). At the other end of the spectrum, New York City FC - who are playing their inaugral league - and Chicago Fire are having a hard time being the last two in both the main table and also the Eastern Conference. They have a lot of work to do if they want to make it to the top 6, but for now nothing is impossible.
The longest unbeaten run in the tournament so far has been New England Revolution with 9 games between March 21st - May 16th. But, they also hold the record for the longest losing streak too with 5 consecutive games between June 21st - July 11th.
With the table as it is now, and plenty more matches to come, will FC Dallas remain on top? Or will another team power through and take victory? Let us know on our twitter page @diamondsoccerus
* GP = Games Played, W = Wins, D = Draws, L = Loss, Pts = Points